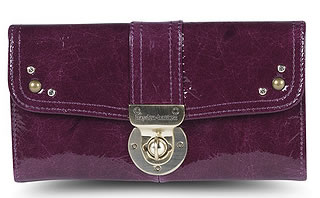 Happy Valentine's Day! No matter what your plans are, make sure you spend time with the ones you love. Today we have a few more designers who have taken time to answer Valentine's Day questions for us. Part owner and Creative Director, Toni Hacker of Hayden Harnett has brilliant answers. This really comes as no surprise, Hayden Harnett is after all brilliant brand!
What is your most memorable Valentine's Day? The year that Ben whisked me away to Iceland…seriously life changing trip. He knows that I love volcanoes, thermal vents, tiny ponies, and exposed continental plates more than anything.
If you could be anywhere for Valentine's Day where would it be? Back in the Hotel Borg in Iceland with Ben or at Machu Picchu.
Is dessert a must after a Valentine's dinner? Not if amour is calling.
What are your plans for Valentine's Day this year? Ben and I are going to "Elixir of Love", an opera presented by the Opera Company of Brooklyn. The opera is staged inside a private residence in Gramercy Park…should be unusual and romantic.
What is the best Hayden Harnett gift for Valentine's Day? Why? For a guy: our Maldives weekender with a sexy note that a romantic adventure is in store. For the ladies: our Ramone studded cuff in ruby is very romantic in a cool girl way…even comes in a gift box