Today is all about the feet and what covers them. I have always been a flip-flop girl, but with age comes the professional world and in that world no shoes, no shirt *is* a problem. It is more than just one kind of problem, because the world of shoes can be very expensive. But I know I love to indulge. Today is the battle of the designer shoes. Which design gets your vote from each designer? First we have some beautiful flats from the Marc by Marc Jacobs line.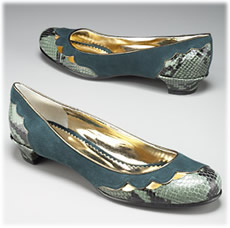 First we have the beautiful and ornate Marc by Marc Jacobs Suede Flat with Python-Print Leather. While these flats have a lot going on, it is the perfect amount in my eyes. The light blue suede with python-print leather trim is exotic and sultry. Better yet, the shoe has a round toe with scalloped cutout detail and gold piping which offsets the suede and python-print. Sometimes I am not sure why I love the busy look, but this shoe just kind of gets me and looks really chic in my eyes. Finishing off these flats is a 1″ python-print leather covered heel. Available for $310 via eLuxury.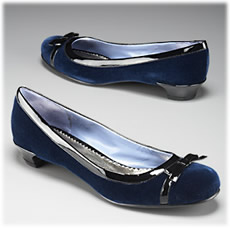 But in a battle, there has to be an opponent. On the other side of this so-called-battle is the refined and polished Marc by Marc Jacobs Velvet and Patent Flat. While the first flat seems more like a shoe to be worn for fun with the girls or to flirt with the guys

the latter seems to be a shoe to dress up. This flat is made with sumptuous navy plush velvet and is trimmed with patent leather. To add a girly touch, there is a patent leather bow over the rounded tow. These Marc flats are available via eLuxury for $295.
But the ultimate question is which flat would you pick? These two beauties could easily make your feet be the center of attention, but let's see who wins the Battle of the Shoes.